Steel Erection Services
Near St. Louis Park, Minnesota
Looking to construct a building in St. Louis Park, Minnesota?
Or make repairs to a current structure, but you aren't sure how to do it?
Steel erectors do the jobs you aren't equipped to do.
From construction to alteration, steel erectors can make your life and construction projects easier.
You should look for steel erection services near you!
Are you looking for installation of steel components in your building?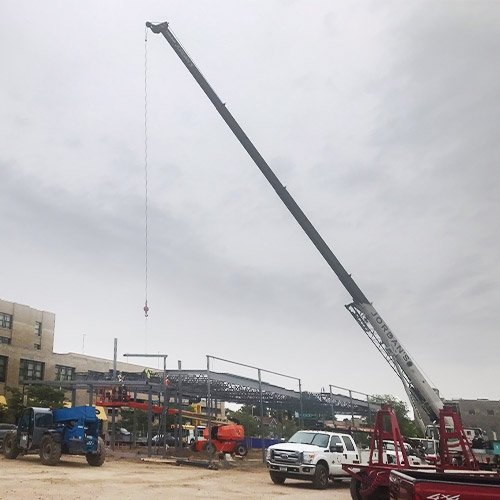 What Do Steel Erection Companies Near St. Louis Park, MN Do?
Steel erectors do a range of jobs that require steelwork. We install and repair new and existing steel components in commercial and residential buildings. They are required to work with steel beams, girders, steel joists, decking, and heavy machinery. Some of the job duties a steel erection company handles include:
Operating cranes and other heavy machinery to move structural steel
Ensuring steel components are aligned correctly
Welding steel frames together to meet job-specific standards
Installation of miscellaneous small projects that include; steel staircases, hand railings, canopies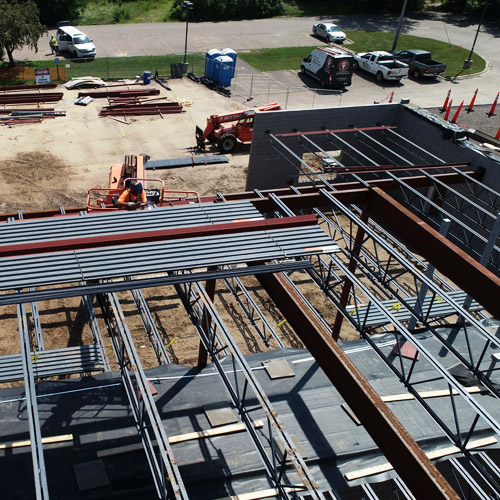 Average Cost for Steel Erection Services in St. Louis Park, MN
The average cost to erect a steel building can range from $50k – $5 M +. That's a lot of money to spend, and you want the job done right. That's why you need to hire a capable & qualified steel erection company. They will do the job correctly and on time.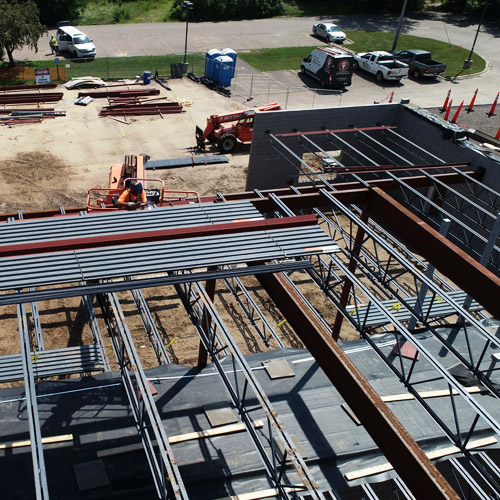 Patriot Erectors Specializes
in the Following Steel Erection Services:
Metal Decking Installation
Metal roof deck, metal form deck, and composite metal deck are the most typical types of metal deck installed by Patriot Erectors field crews. Metal decking is typically fastened to supporting steel members by welding, screwing, and powder-actuated pins. The composite metal deck is also fastened at shear stud locations. Side laps for metal decks are fastened with screws.
You can rest assured that our crews install the metal deck using approved field installation drawings that incorporate project requirements such as Steel Deck Institute requirements and Engineer-of Record approvals. Various OSHA-certified tie-off systems are utilized to ensure the safety of our crews and our compliance with OSHA safety requirements.
Steel Erection
We erect all types of structural steel and excel at erecting more challenging and unique structures. Our Union ironworkers are fully trained and certified in all aspects of steel erection, including welding, signaling, and rigging.
We know that the erection phase of any project is almost always a "critical path" and requires a careful and complete pre-planning process. You can rest assured that all the critical components involved in our process are carefully examined, including site logistics, cranes, and durations. Most importantly, we know how sometimes dangerous activities can be done efficiently, and even importantly, safely.
Structural Steel Detailing
Patriot Erectors takes pride in the fact that we have an experienced staff of Union ironworkers with years of experience. That experience includes being fully trained and certified in all the necessary aspects of the detailing phase of operations, including coordination, layout and elevations, welding and bolting, etc.
We work with customers to solve problems and deliver the most workable and economical experiences possible, and deliver on time. Again, Patriot's number one goal is the safety of our workers and everyone working on your project.


Why You Should Hire a Steel Erection Company Near St. Louis Park, MN
When constructing any building on your property, work to ensure you have the necessary permits. In St. Louis Park, Minnesota, you must obtain a permit to make any alterations to an existing building, and you must obtain one to build a new building. Steel erection companies can work with you to ensure that you have the correct permits for your building so that you don't end up getting fined. This saves you the time you would spend researching, and it saves you money on unnecessary permits.
Safety is always the number one priority when working with steel and heavy machinery. Hiring a steel erection company will take the worry of safety out of your hands. They come equipped to address safety concerns specific to job sites and OSHA regulations.
The equipment needed to build a steel structure can be expensive to purchase and costly to maintain. Between parts, oil, and other necessities to operate the machinery, you could be looking at thousands of dollars. Steel erection companies already have the machinery to do the job, and you don't have to worry about tracking anything down or paying anything extra.
Time is of the essence for most people. If you're building a steel structure, you probably want the job to be completed quickly. When you take on a project alone, it can be costly and time consuming. A successful steel erection company will take time seriously and ensure they complete your project as soon as possible. This will save you time, money and a lot of frustration.
Finally, the most important part of constructing a steel building is making sure it is structurally sound. The last thing you would want is to have structural deficiencies that would need to be replaced or repaired due to improper installation. Hiring a professional will give you peace of mind that the job is done correctly, And you will know your building is structurally sound while long-lasting.


Step-by-Step Process to Erect a Steel Building in St. Louis Park, MN:
Contact Patriot Erectors to schedule a project discovery call.

Work with our company to review blueprints for your project.

Generate a cost proposal and accept.

Coordinate timely delivery and storage of materials on site.

Erect the building following job-specific blueprints and specifications.

The company will frame the building, then add secondary framing. Perform detailing and decking operations of the project.

Installation of miscellaneous metal components including stairs, railings, etc.

Your building is complete!


PROJECTS
Curious what we've been working on lately? Here are some examples…